You are here
READ NOW! EXCLUSIVE INTERVIEW WITH HARDCORE DIVA AniMe
1. The best and the hugest hardcore music festivals in the world can not be imagined without this DJ in line-up!
2. She is not only talented artist, but also incredibly beautiful woman!
3. Her albums are sold away like hot pies on a fair day!
4. She was absolutely cute girl in her childhood) 
All these facts are about the Italian hardcore diva DJ AniMe! Want to know more? Read our exclusive interview below!
DJANEMAG: Let's start with why you chose Hardcore amongst other musical styles? Can you remember the moment when you decided to go for it and be a DJ?
AniMe: I chose Hardcore because it was the genre which made me feel the most passionate. So energetic and different from anything else around, it gave me much power and made me feel different from the masses. When I started to DJ I was only 17 and there were just a few female DJs in Europe. I didn't expect that one day it would become the job that I do for a living.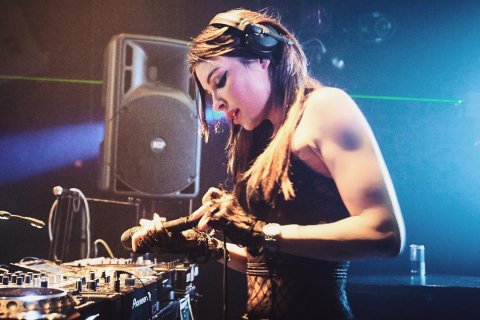 DJANEMAG: We do not know why but the Hardcore family seems to be the most amicable in the electronic music world! Is it really so?
AniMe: I don't know if we are 'amicable,' but we are, for sure, the most dedicated to our musical genre. For the Hardcore listeners, this is not only music – it's a whole lifestyle.
DJANEMAG: You played at the best festivals of the world like Tomorrowland, Dominator, EDC Las Vegas, Mysteryland, Masters of Hardcore, Defqon.1 and Syndicate. Which was the most incredible and most memorable experience? And, which other festivals are on your bucket list to perform at?
AniMe: Yes indeed; I played at all of these amazing festivals and each of these has a magical side that they are individually appreciated for. I love to perform at Tomorrowland and Mysteryland because they are historical parties and I dreamt of playing there since the beginning of my career. I had never thought that one day I would have the opportunity to play on those stages. Performing at EDC Las Vegas is also special for me, because it's one of the biggest Electronic Dance Music festivals in the world and there are only a few spots for Hardcore artists to perform there – so of course it's a huge honour to be chosen amongst all of my colleagues. Also performing at Dominator was one of the biggest goals of my career, playing on that colossal mainstage really signifies that you've made it and that you're one of the best artists of the scene. In the future I would love to perform at Ultra in Miami, but I know that they never had Hardcore programmed there before. My new goal is to pass the borders, bring my music to new places and perform where other Hardcore DJ's have never performed.
DJANEMAG: Tell a funny story that happened to you during a gig!
AniMe: Many years ago, when I was a crazy rebel, I played at an open air festival in a water park in Italy. When I finished playing, I jumped on stage with a friend of mine, Rudi, who was a part of Noize Suppressor in those days. Our idea was to wet people in the front rows with water guns, but the problem was that it was dark and the stage was black, so you actually couldn't see the end of the stage. I didn't realise I had reached the end of the stage, so suddenly I fell down two metres like a sack of potatoes! I'm so lucky I didn't injure myself badly, just a dislocated wrist. I still laugh to myself whenever I remember that moment; it must've been fun to witness such a crazy scene from the first rows of the crowd! :D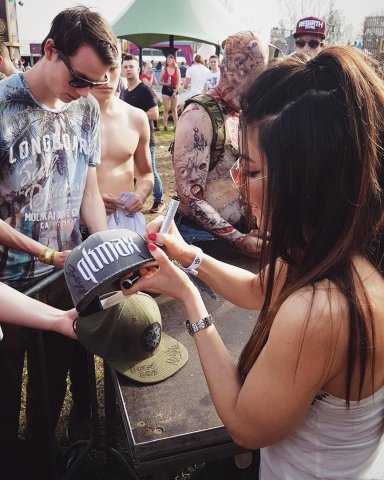 DJANEMAG: Share interesting facts about your latest album 'INSANE!' Is it different from your previous album 'Exterminate?'
AniMe:  'INSANE' totally represents my personal musical taste; I've always been very open minded when it comes to music and I want to merge this open-mindedness with Hardcore. With that said, you will hear an array of different elements in my new tracks, break-downs made with songs that were written and sung by talented singers, followed by emotional melodies and several different kickdrums. With these components I want to show people that Hardcore is not only kickdrums and screeches, but it can be something so greater, something with such huge
energy.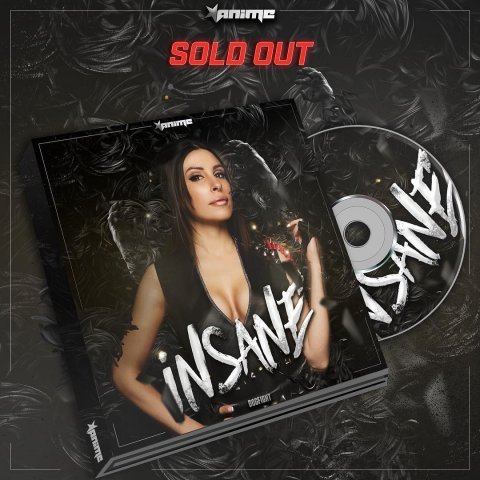 DJANEMAG: Tell us a few words about the new collaboration with Mad Dog!
AniMe: Working with Mad Dog is certainly a very stimulating and creative experience. We have the same idea that making a song simply for the sake of releasing something new is useless and
frustrating. And for this reason, we always spend weeks on finding a good idea to develop in our tracks. The new collaboration "Symmetry" is not for everyone; technically it's a very complex production and people must be very open-minded to understand this song. We matched different elements together; for instance, the emotional song in the break-down suddenly transforms into heavy metal screams and sounds, which is a huge contrast to the nostalgic vibes in the track. Then it drops with a crazy, unexpected kickdrum and stops again, before opening again with a different break-down. Then it turns heavy metal again until the acid bassline drops. I think that this track is very... 'insane!' I'm happy with the result. I already played "Symmetry" in my latest performances and the crowd went completely nuts. Besides that, yes, it would have been easier to put a kickdrum and screech together, because it's trendy at the moment, but we like to make our lives complicated, haha.
DJANEMAG: What do you think people do and feel whilst listening to your music?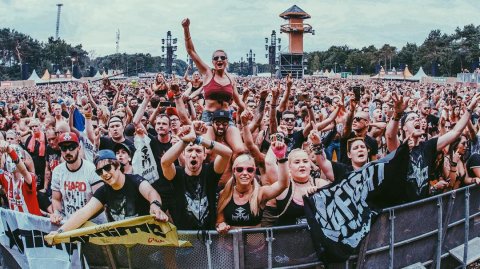 AniMe:  Many fans tell me that they listen to my music to feel better; it gives them strength to go on and face the days with a smile. In the end, music is a good therapy for everyone. :)
DJANEMAG: Can you describe how you usually prepare for your set? Where do you get your music from and how do you decide on what to play? Perhaps you also have some special rituals before stepping on stage...?
AniMe: Preparing many podcast episodes, radio mixes and playing every weekend around the world, I'm always updated on new music and my playlists are full of Hardcore of all kinds, from 160 to 200+ BPM. I also receive many promo mails from other record labels and I check the latest singles on music portals. However, I prefer to play my own tracks, as I always have new productions. I also play many tracks by the Dogfight Records producers, because they are the tunes I prefer. I do have special rituals before stepping on stage – I look for silence. Before I go on stage I hate being in groups of people who keep talking to me; I prefer to stay alone for 10 minutes as I need my concentration to get in the zone. I am not a smoker but I also smoke a cigarette. Same when I get off the stage – it relaxes me.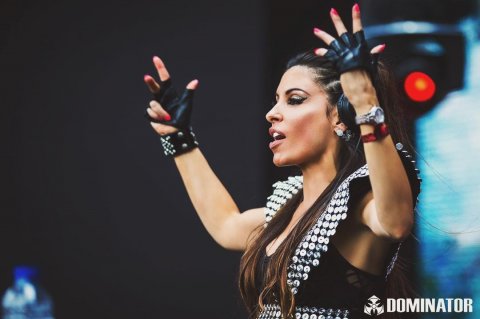 DJANEMAG: 3 unknown facts about AniMe: 
1 - I'm very independent
2 - I hate when people tell me what to do
3 - I love tomatoes
DJANEMAG: Any final words for our readers.
AniMe: Come and visit one of my upcoming shows and be sure to check out my album 'INSANE'!
By the way, AniMe's latest album was sold out during the pre-order time-frame! Really insane result! And if you still doesn't enjoyed it, here you can find the link for streaming and downloading it: https://lnk.to/INSANE 
Be sure you follow AniMe across all social media and don't forget to show your love and support and VOTE for DJ AniMe at top100djanes.com!