You are here
READ NOW! EXCLUSIVE INTERVIEW WITH DJ GIULIA REGAIN
DJANEMAG had a talk with Italian DJ GIULIA REGAIN. We found out a lot of interesting facts about her and want to share a couple with you:
Giulia works as a DJ for 13 years! 
She has a degree in Psychology!
She loves fashion and cooperated with Maserati, Mercedes Benz, Playboy, Bulgari... and participated in Vogue Fashion Nights. 
Want to know more? Read out exclusive interview below: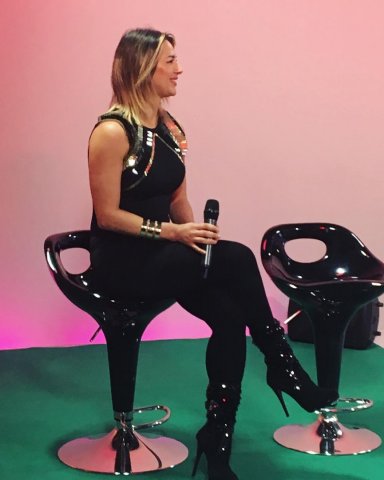 DJANEMAG: Let's start with where are you from? Tell us something about your country, your native city, how did your childhood go? Can you remembered the moment when you decided to go for it and be a DJ? 
GIULIA REGAIN: I lived in Italy in a beautiful city Cesena, which is located in the region of Emilia Romagna that is actually "the homeland" of discos in Italy. As a child I studied dancing, guitar and singing for many years. As soon as I turned 18 I started working in famous local nightclubs and after 7 years I started to use vinyls. I think it was my destiny to be a DJ.
DJANEMAG: Men rule in DJs world. Do you agree with this statement?? Was it difficult to achieve success? What can you advice djanes who just starting their way!? 
GIULIA REGAIN:  I started DJing about 13 years ago when "being a woman dj" was a challenge. Now it is more "a fashion" or we can also be happy that women have taken their deserved space. When I started I had this dream: equal opportunity!
DJANEMAG: What are currently your main challenges as a female DJ? What is it about DJing, compared to, say, producing your own music, that makes it interesting for you? 
GIULIA REGAIN: Currently the greatest challenge is to perceive people "talent, a message and quality" being the internet and socials full of low profile or "fake artists" who only aim at the image. 
Music and Djing have the power to create emotions and unforgettable moments, this makes me be a DJ and producer, so artists, really interesting. Also a life mission!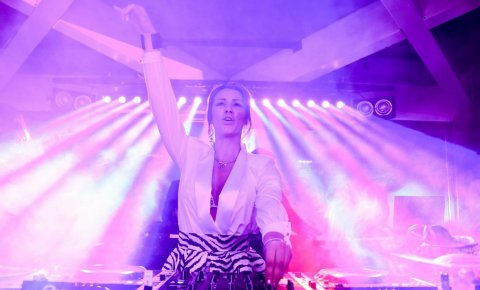 DJANEMAG: One of the particularities of DJing is that takes people outside their own little box for a few hours, without the option of switching channels, changing the song according to their own taste or remaining within their virtual circle. How do you, as a DJ, make use of this freedom? How important are not just the entertainment- but also the curatorial functions of DJs today? 
GIULIA REGAIN: Music itself is true freedom. When the DJ is "in the direction of a musical party" for me must have the sensitivity and ability to perceive what the group at that time would like to hear to get to have fun, get excited and to share those moments. This is pure alchemy! 
DJANEMAG: Do you like to play at big festivals or prefer cozy clubs? 
GIULIA REGAIN: I prefer the big festival.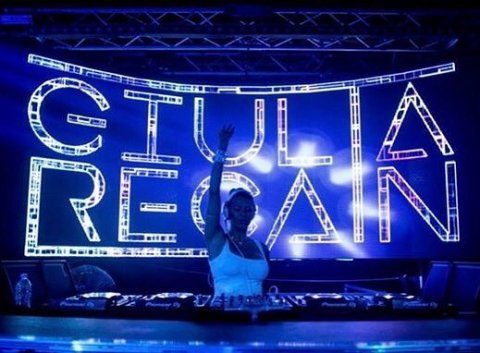 DJANEMAG: Do you believe in the possibility of "reading an audience" – and how do you put it into practise? 
GIULIA REGAIN: I think this is one of my strongest points ever. I have a degree in psychology, but when I was a child I was very sensitive, empathetic and a great silent observer ... 
DJANEMAG: In how much, do you feel, is the club experience shaped by cultural differences? Do you, when travelling, take these cultural differences into consideration – and in how far has your approach as a DJ perhaps even benefited from playing in different countries and in front of different crowds? 
GIULIA REGAIN: It is beautiful and stimulating to take cultural differences into consideration. It's a form of respect for the public and a way to make the DJ set even more interesting!
But this not only for Djing. In fact, in the studio we just finished a summer track 2018 dedicated to Mykonos and it was very interesting to do a musical research on Greek music. 
DJANEMAG: Sounds interesting! Wiating for the track!!! and Where can we listen to your music? 
GIULIA REGAIN: I recommend listening to my music on spotify and https://soundcloud.com/giuliaregaindj with the ability to buy tracks on iTunes. 
I also have the Podcast #Gmagic on Itunes and the app "Dj Giulia Regain where I have a more refined and elegant selection for when I'm more" Luxury & Fashion DJ ", for example for the private parties and fashion events. 
 
DJANEMAG: You are fond of fashion, aren't you? We know that you cooperated with different brands like Bulgari or Rolex, is there any brand you dream to cooperate and what kind of cooperation it could be?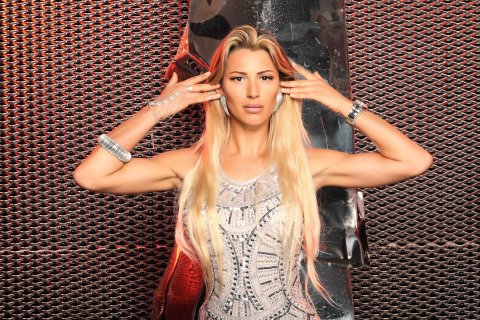 GIULIA REGAIN: I have worked with many brands and fashion shows from Italy to Dubai. This month I am going to work with Volkswagen in the prestigious location of Milano Marittima at MarePineta Resort. My dream is 2 Italian brands: Armani and Damiani, both as a DJ for parties and for their fashion shows. 
DJANEMAG: Any final words for our readers. Share your plans for future!
GIULIA REGAIN: You are all invited to join my "#Gmagic World" dedicated to the magic of music. Through the site www.giuliaregain.com access all the socials, Podcast on iTunes, app, music productions and videos. Between summer and autumn 2018 will come out different musical productions that I hope will illuminate your night like stars!
Dear friends, be sure you follow GIULIA REGAIN across all social media and don't forget to support her at top100djanes.com! Follow the link and VOTE NOW!